A year ago I bought a 2009 KTM 690 Enduro R from a SDAR member.  I\'ve always wanted a Dakar replica bike so I saved up a couple coins and made it happen.  By a \'couple\' I mean more than I ever care to admit or share...It\'s basically the cost of good used bike to build a 690 Enduro into a Rally bike.
 
The Reason:

To build a Dakar replica bike (in black)
To mount a digital device to use as a big screen GPS where a roadbook would go.  Tired of small GPS screens.[/*]


The Kit:
I researched a bunch of the Rally kits available (there are quite a few) and felt like the Rally Raid EVO2 kit was my best option in terms of cost, customer service, etc.  When you do something like this, you have to figure out what all the extra costs are going to be as well.  It\'s not just a Rally kit and off you go, there\'s a TON of other stuff that has to be thought about when doing something like this even down to what grip heaters you\'re going to use.  I chose the Rally kit vs the Adventure kit (dash is like a 990) because I wanted the roadbook mount for tablet plans.  The Rally kit is quite a bit more expensive than the adventure kit, unfortunately.
The GPS:
The Tablet I chose to use is the 7" Panasonic JT-B1 Tough Tablet using a powered docking station mount called the TabCruzer made by Gamber-Johnson.  This was months of research to get to this point to find a device and mount that would work for this application.  Using some RAM hardware the mounting hardware underneath the docking station was fabricated by Mike Bolden here in San Diego.  The mount is built so that it is adjustable from nearly flat to facing the rider.  I tested out a bunch of apps and I\'m currently the happiest with the DualSportMaps.com APP.  I also tested out Trimble Navigator, BackCountry Navigator, Gaia GPS, GPX Viewer, Riding Social (still in Beta), and a few others.  Those were just the most notable.  I\'m currently beta testing the Riding Social APP made by the guys at Butler Maps which as a lot of promise.  A couple of additional features and they\'re going to be VERY competitive in the GPS market for iOS and Android.
 
The Parts:
The build sheet is HERE.  It\'s WAY too long to list here.  Close to 75 items on that list and that doesn\'t count the stuff I forgot to list.

The big ticket items are:

Rally Raid EVO2 Rally Fairing Kit
Rally Raid EVO2 Tank Kit
Rally Raid Soft Luggage Racks
Highway Dirt Bikes top clamp and hang guards[/*]
Seat Concepts Seat - Gripper top with vinyl sides
Complete Suspension overhaul done by Suspension 101 - SDAR Member George "Suspenders" Spinali


There was A LOT of planning that went into this bike including how I would even complete such a big project on my own.  Mentioning this over lunch with Paul M Bowers, he suggested that we use his studio as the build area since he had a lift, tools, and expertise in bike modifications.  That right there was what made me pull the trigger to move forward with this build.  This project would not have happened without his help.  Thank you for your time, patience, tools, lift, electrical knowledge, jokes, and your friendship.  I am truly grateful to call you my friend and riding buddy.  
The Process:
The build took a couple months to complete working off and on.  Some things just magically appeared completed on the bike when I came back to the studio (Footpegs being one of the big ones that required a bunch of dremel work and such to make them fit).  Paul had taken it upon himself to just do a bunch of the work while I was working, sleeping, or drinking my coffee.  Sometimes while I was standing there watching, while drinking my coffee he was making things happen.  He did a bunch of the electrical work while I watched and learned.  The heated grips are expecially badass with the inline relay so the grips were pulling power on their own circuit and not on the same circuit as the GPS Harwire or the tablet docking station.
Getting the headlight and fairing mount on the bike and aligned correctly took some work.  Once that was done you had to mount the fairing pieces and drill the holes where they would screw into the tanks on the side.  This meant making SURE it was aligned before drilling, or you were going to have issues.  The tanks are fairly easy to remove as are the fairing pieces to get to the headlight or to the instrument panel or fuse box.  One allen wrench and you can have the entire fairing in your hands in about two minutes.  The tanks are another allen wrench with their own petcock on each side which makes it very easy to get to the bike.
Some of the time we had to wait on parts, then we had to wait on more parts, trips to Marshals hardware were frequent, and lots of discussions and husband and wife arguments about what we should do for this and that on the bike.  We literally sounded like an old married couple most of the time.  I\'d suggest something and Paul would say,
\"NO YOU ARE NOT DOING THAT TO MY BIKE!!!\"
.  During this build, it pretty much was his bike and his baby, hehe.  
What\'s left?
There is still some serious debate on the vibration that makes its way to the tablet mount, and we\'ve discussed many options on how to reduce that vibration.  We\'ve decided we need an anti-gravity machine installed on the bike to make the tablet float.  Seriously though, we need to get some dampening on this mount without increasing oscillation by a huge factor.  Opposing rare earth magnets on a shaft with springs behind it is about as far as I got before my head exploded.  If anyone has any brilliant ideas on how to reduce the vibration in the tablet mount (yes we thought about grommets) then we\'re all ears.  Something needs to happen to cut down some of the vibration.  Biggest issue being the device and mount don\'t weigh very much so something like a hydraulic shock wouldn\'t work so well.
Considering a different skid plate, new Squadron headlights from Baja Designs, as well as getting PTT for the radio setup resolved in a better manner.    
The good photos are by Paul M Bowers, if you see any crappy pics, I took them.  It\'s very clear who took which pics, hehe.  
Facebook Gallery:
HERE
 (the good ones)
All Pics:
HERE
 (No gallery)  
Lots of the build process in the All Pics section that really aren\'t worthy of posting here because they are crappy cell phone pics.
These are the awesome pics Paul took:
 
The Bike: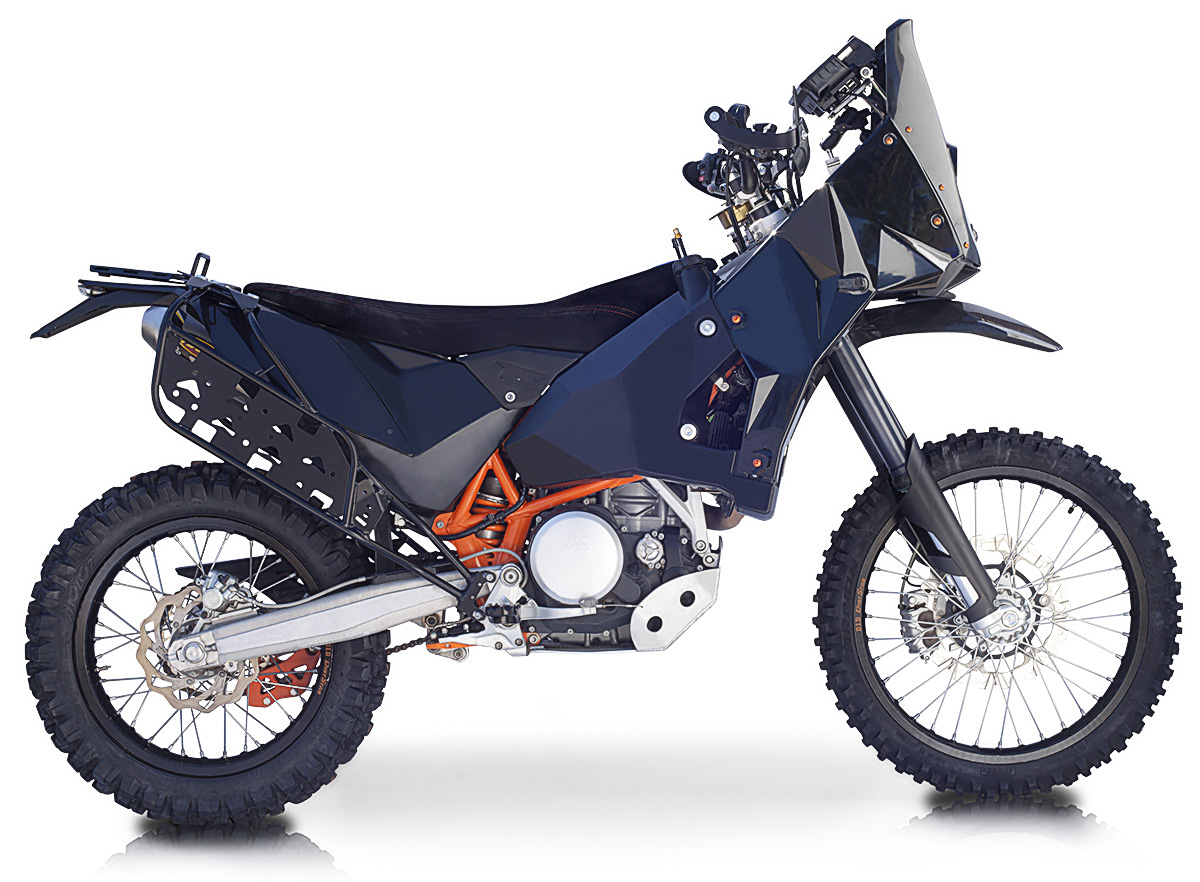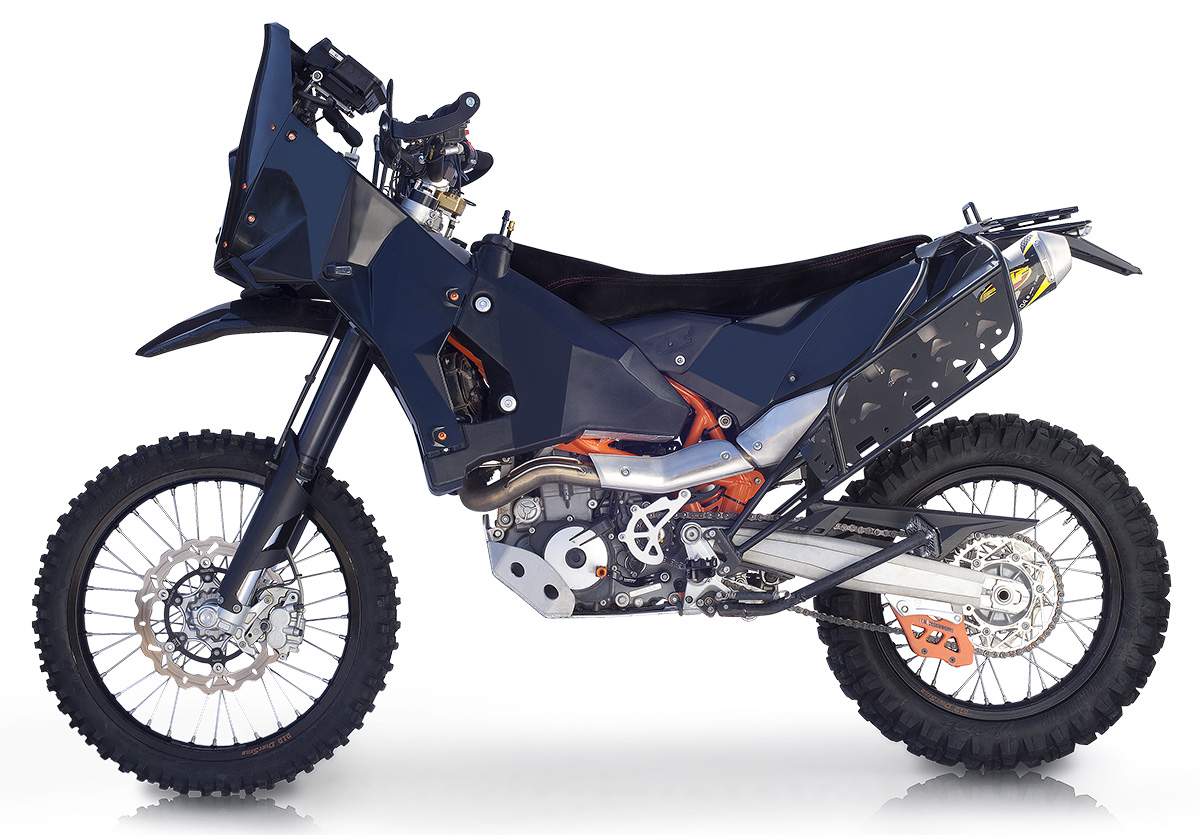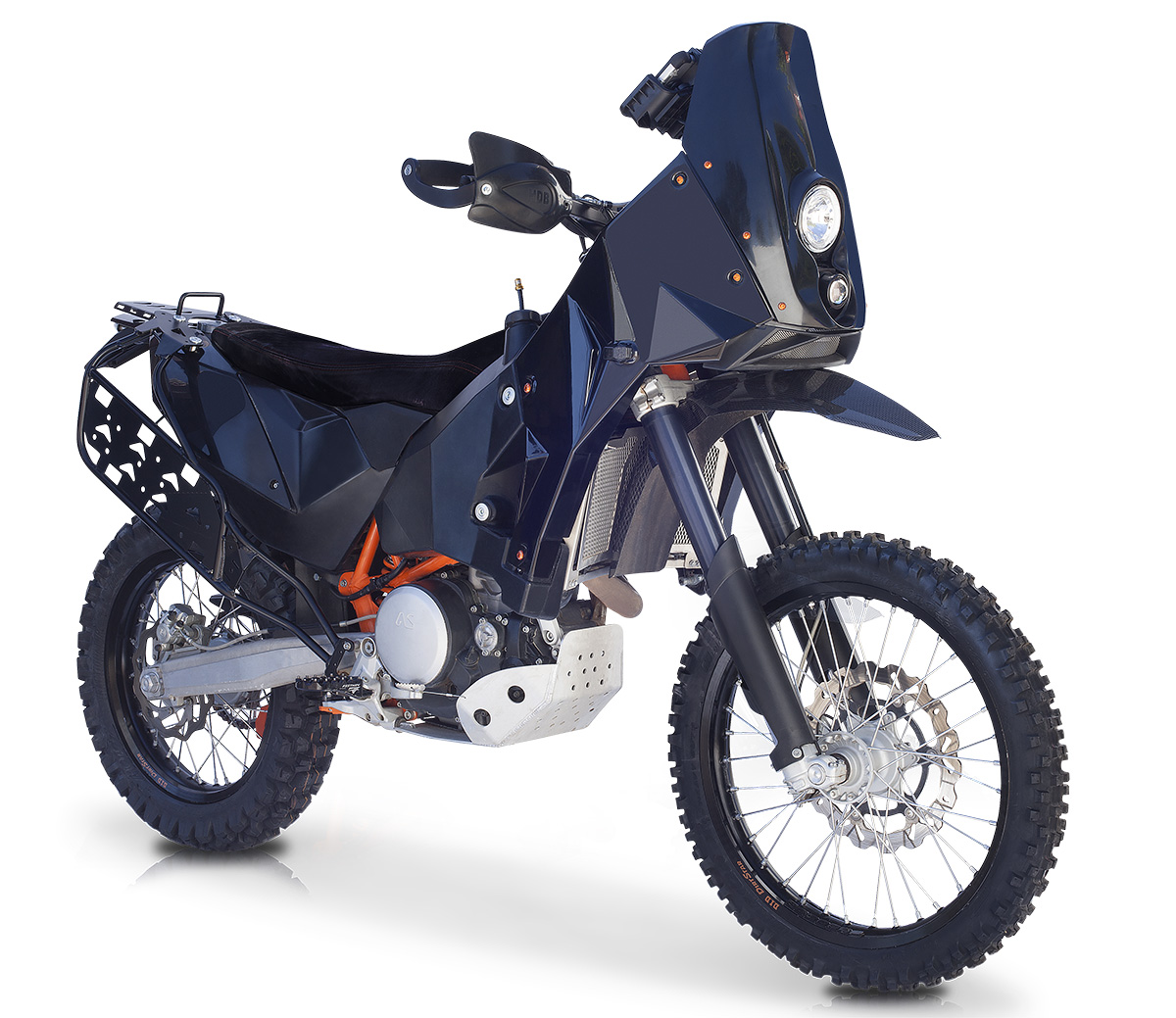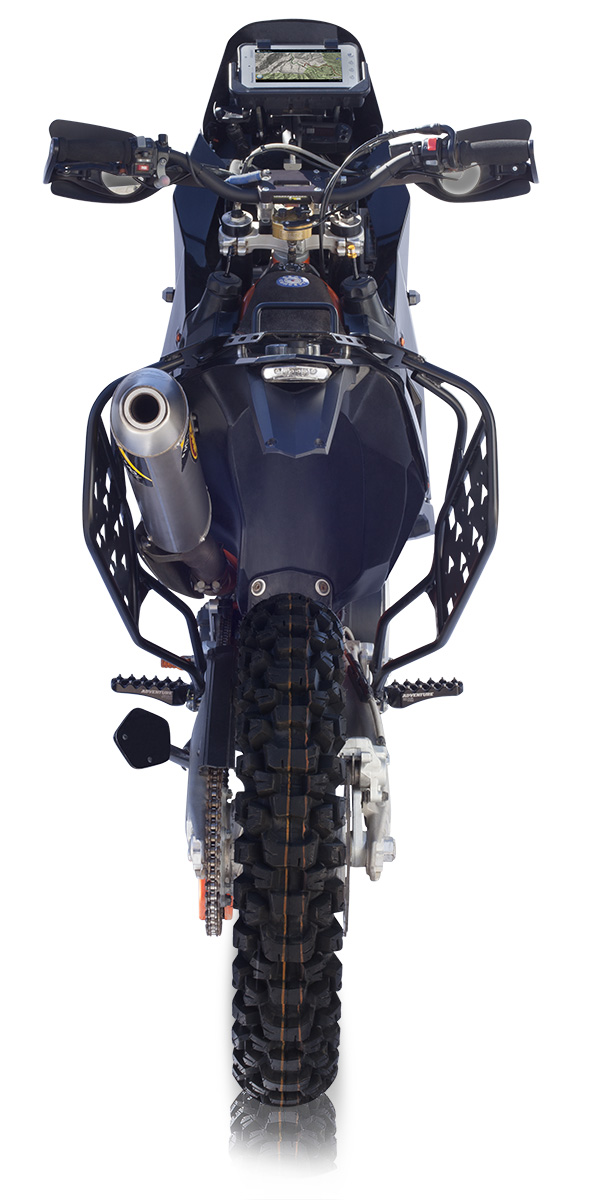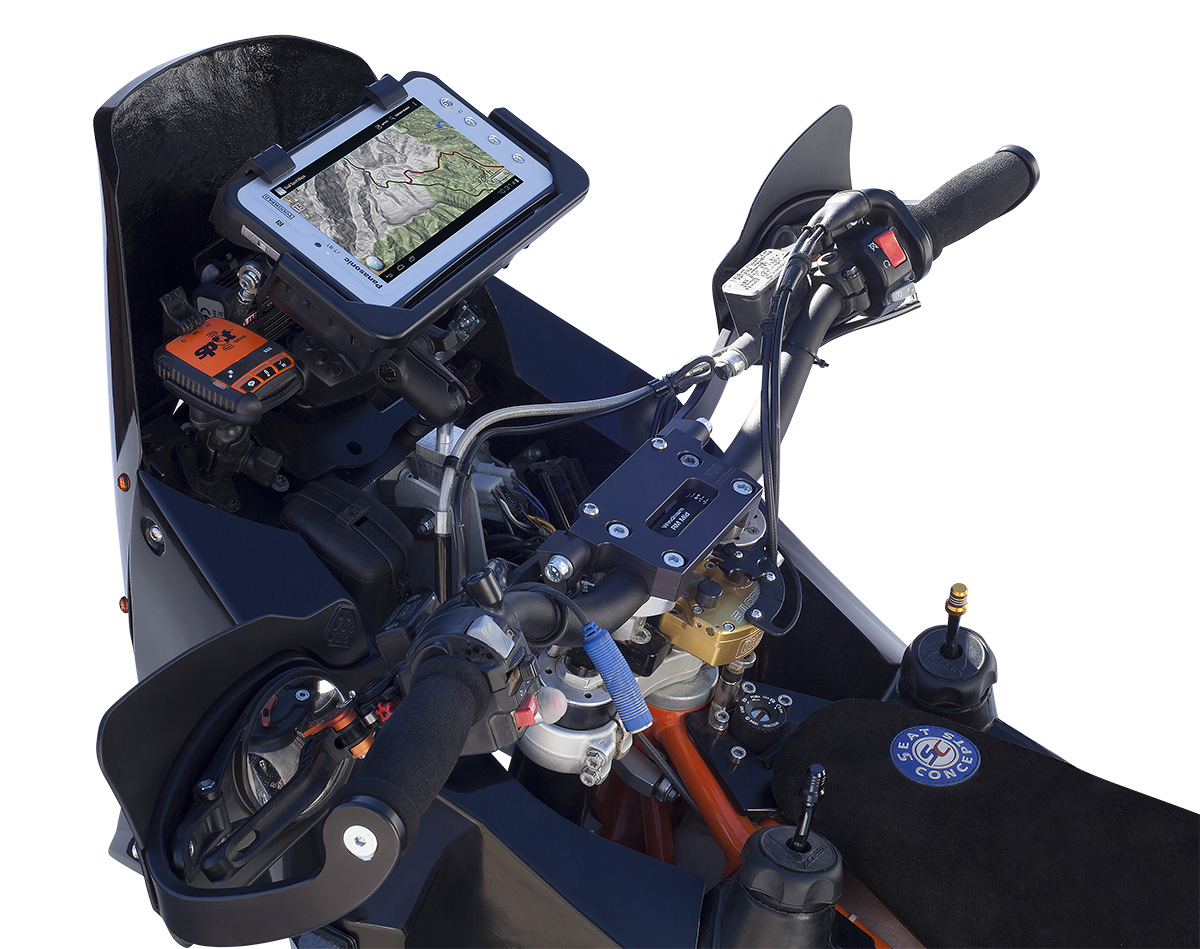 The tablet mount (Mike Bolden) and power supply mount (Paul M Bowers):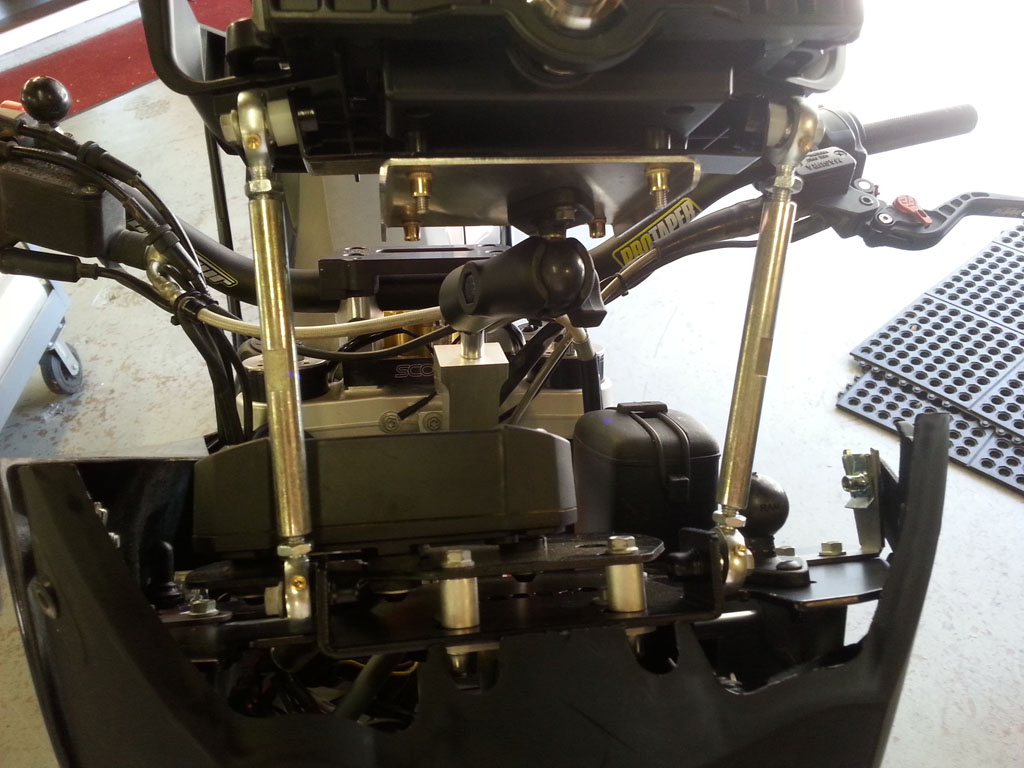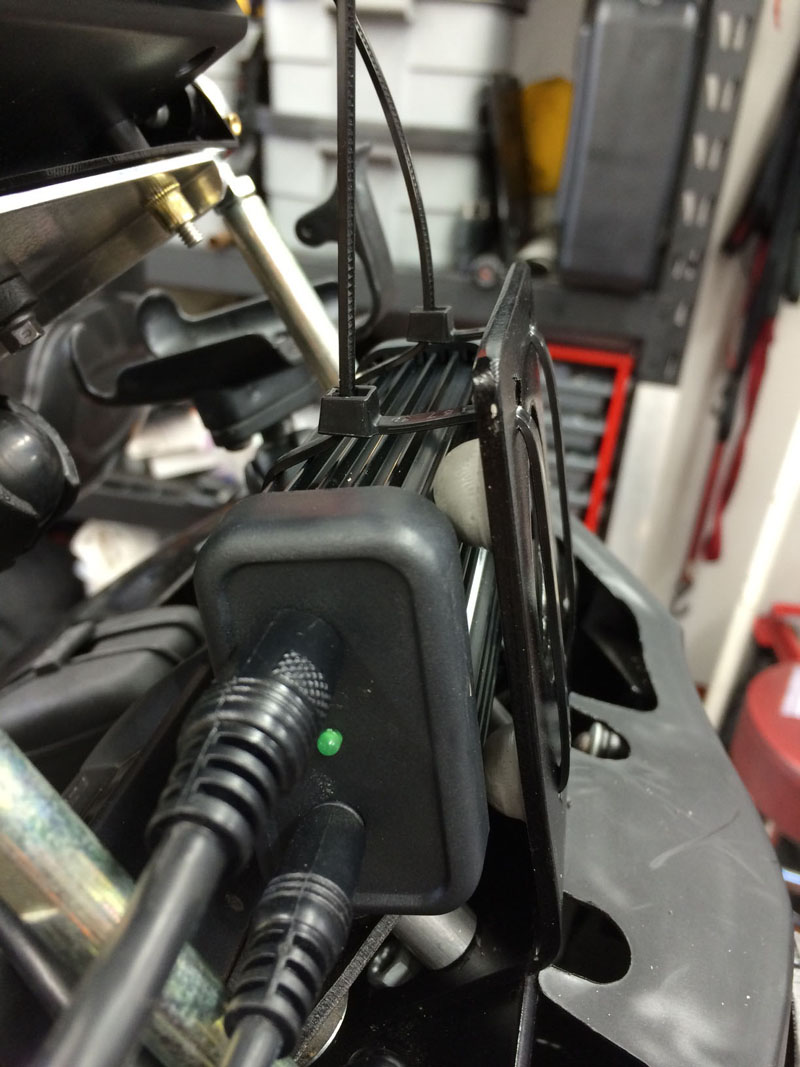 The Device and Docking Station: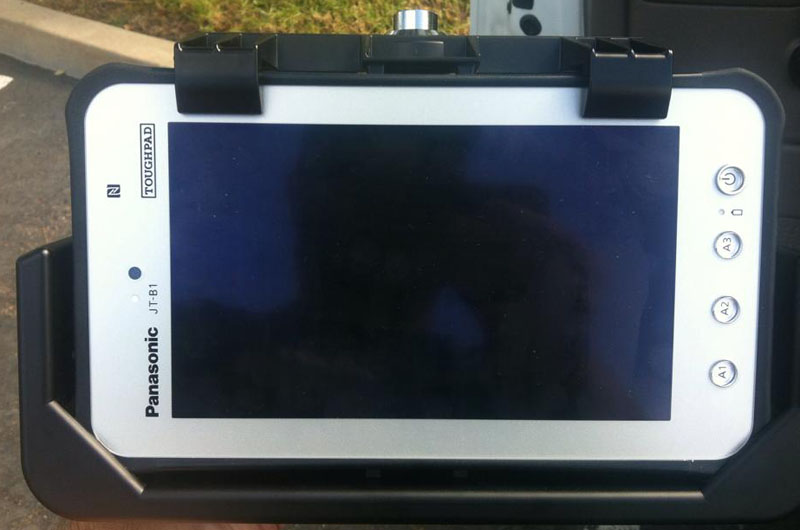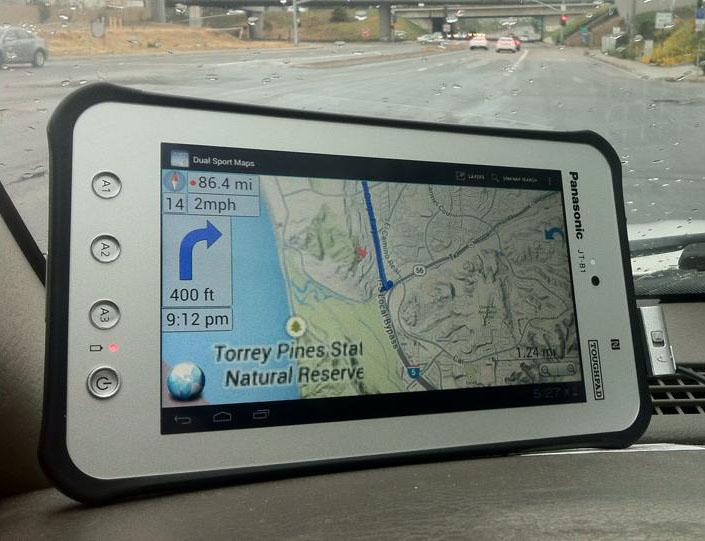 Special Thanks:


Paul M Bowers for the help in getting this bike completed on time for the Bar 10 ride.  Truly grateful.[/*]
John & Liz Mitchinson at Rally Raid for their continued support of this build and their assistance.[/*]
Steve Grieb at C&D Cycle Center in Kearny Mesa for their continued support[/*]
Chip & Big Dan at Munn Racing[/*]
Lendon & Robert at Seat Concepts[/*]
Mike Bolden at San Diego Metalcraft[/*]
Aryn at Cycle Buy[/*]
SDAR Members for their insight and suggestions on this build who knew about this secret project early on[/*]
Boston Mangler for sending me links and spending my money on more stuff.  This man costs me tons of $$!!  Bastard...  =)[/*]